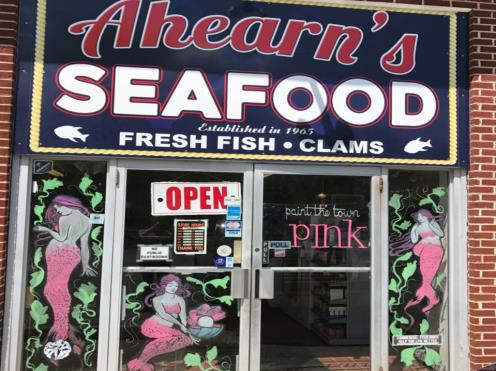 We pride ourselves on our fresh seafood.

We carry a variety of fish and shellfish and do not substitute anything - feel free to ask any questions and thank you for your business!

For exclusive discounts and specials listings:

Struggling for gift ideas? We offer gift certificates!


In our ever-changing situation,  please check our Google, Facebook, or Instagram page; updates can be posted there as soon as we get them.

Welcome to Ahearn's Seafood Market, for more than 50 years we have brought you the freshest seafood available. We strive to carry a variety of fish, many of which come straight from the boat and are never frozen. We also have a large variety of frozen items like our king crab, octopus, or coconut shrimp. Our store also makes prepared items daily such as our ahi tuna plates, salmon pinwheels, stuffed flounder or Chef Fawns famous lobster mac and cheese. Our full list of items can be found by clicking the links to the left. Feel free to visit us in our store or call 1-609-693-3486 to place an order. Thank you!

Hours of Operation

Monday: CLOSED

Tuesday: CLOSED

Wednesday: 9AM - 5PM

Thursday:  9AM - 5PM

Friday:   9AM - 5PM

Saturday: 9AM - 4PM

Sunday:  9AM - 4PM

Location:

158 Wells Mills Road, Waretown NJ 08758

We are right off of Exit 69 on the Garden State Parkway. Just head east and we will be on the left!

Welcome to Ahearns Seafood Market