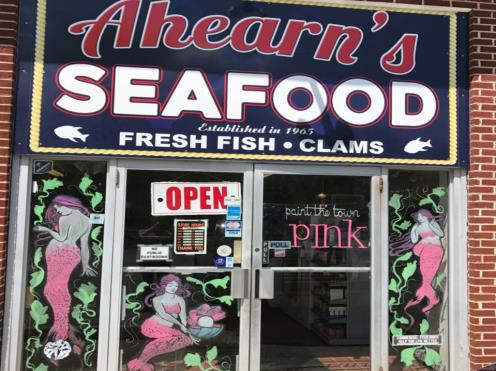 We pride ourselves on our fresh seafood.

We carry a variety of fish and shellfish and do not substitute anything - feel free to ask any questions and thank you for your business!

For exclusive discounts and specials listings:

Struggling for gift ideas? We offer gift certificates!


In our ever-changing situation,  please check our Google, Facebook, or Instagram page; updates can be posted there as soon as we get them.

PREPARED ITEMS

Crab Cakes

Clams Casino

Stuffed Clams

Coleslaw

Mac and Sealeg Salad

Shrimp and Sealeg Salad

Seaweed Salad

Smoked Whiting

Stuffed Shrimp

Stuffed Flounder *Limited Availability

Stuffed Mushrooms *Limited Availability

SOUPS

Manhattan Clam Chowder (Red) *Back in Stock!

New England Clam Chowder (white)

Lobster Bisque

Crab Bisque

Maryland Crab Soup

DRY GOODS

Old Cape Cod- Oyster and Square Crackers

Cappelini

Linguine

Alessi Risottos-


Mushroom

Milanese w/ Saffron

Sundried Tomato

Brocollini and Cheese
Alessi White Bean Soup

Zatarains Rices-


Jambalaya Mix

Red Beans and Rice

Yellow Rice

Dirty Rice
Seeds of Change-


Spanish Style Rice

Quinoa and Brown Rice

Brown Basmati Rice
SAUCES

Visceglia's- Pomodoro, Arrabiata, Crab Gravy

Kelchner's- Cocktail, Tartar, Horseradish, Sriracha

Butter & Clarified Butter

Old Bay Hot Sauce- Back in stock!!!

Mikes Hot Honey- back in stock!

Hank's Hot Sauces & Rub

Love Potion Hot Sauce

Ashman Teriyaki Sauces- Sesame, Pineapple, Wasabi, Bourbon

Terrapin Farms- Horseradish Dip & Sauce, Bacon Aioli, Pesto, Chipotle, Wasabi Ginger (*New!)

We have available all the usual fish seasoning, Old Bay, Chef Paul's etc.

Items subject to change with availability

WE DO NOT HAVE ANY HARD SHELL BLUE CLAW CRABS

FRESH FISH

Flounder

Cod

Organic Salmon (Sushi Grade)

Farmed Salmon

Tuna

Halibut

Swordfish

Grouper

Red Snapper

SHRIMP- (Wild, Headless)

*Please note- We are unable to clean

shrimp at this time*

Large (28/lb)

Jumbo (14/lb)

Large Cooked Shrimp (shell on)

SCALLOPS

MUSSELS

CLAMS (Little & Middlenecks)

STEAMERS (Ipswich, "Piss clams")

OYSTERS

CRABMEAT

SOFT SHELL CRABS

LOBSTERS

MEATS

Super Trim Chicken Breast

10oz Top Sirloin Steaks

Burgers (4 pack)

FROZEN

Sushi Grade Tuna- Saku Blocks

Lobster Ravioli

Calamari

King Crab

Snow Crab

Dungeness Crab

Coconut Shrimp

Recipe Ingredients-

Lemons

Capers

Fresh Garlic

Minced Garlic

KEYLIME PIES ARE BACK!!!!

2020

Important Holiday Information

Due to the covid-19 pandemic our holiday procedures have changed.

We will be operating on a curbside only basis from

the 21st to the 24th of December.

Unfortunately you will not be allowed in the store during this time.

Our new procedures are as follows:

1. All orders MUST be placed by December 19th

2. After placing your order you will receive an order number and a pickup time. It is EXTREMELY important that you remember both your order number and pick up time.

3. Please place your order as early as possible as times will fill up fast.  Be sure to place your order carefully as there will be no changes to an order after the 19th of December.

4. When you arrive for your pick up at your designated time, have your order number ready and DO NOT CALL to let us know you are here. Proceed to the tent where on of our employees will meet you to retrieve your order.

Thank you for your cooperation and we wish everyone a safe and happy holiday season!!