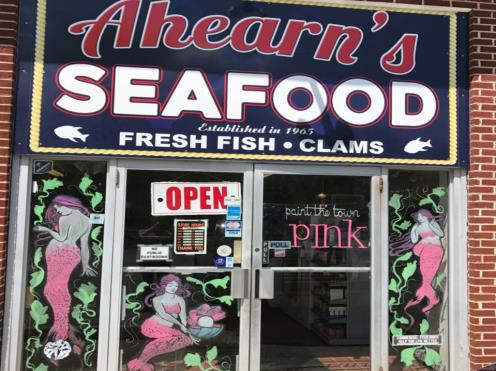 Please see updates/procedure and item lists below.

We are now allowing 2 customers in the store at a time. All customers must be wearing a face mask as per NJ law, and we ask that everyone abide by social distancing in the line as well as inside the store.

Curbside pickup will still be available, with one day advanced notice. For same-day service, customers must come into the store. We will not be able to accept any same day orders. We kindly ask that you limit orders to those that meet a $20 minumum. You may order via phone or online via the "contact us" tab for Curbside service with at least one day notice during the following hours*:

Beginning Wednesday, September 9th our NEW HOURS will be:

Wednesday – Thursday – Friday: 10am-5pm

Saturday – Sunday:  10am- 4pm

CLOSED Mondays and Tuesday

*or until capacity has been reached

We appreciate your business, especially during this difficult time, and we thank you for your support. Stay safe.


We pride ourselves on our fresh seafood.

We carry a variety of fish and shellfish and do not substitute anything - feel free to ask any questions and thank you for your business!

For exclusive discounts and specials listings:

Struggling for gift ideas? We offer gift certificates!


In our ever-changing situation,  please check our Google, Facebook, or Instagram page; updates can be posted there as soon as we get them.

PREPARED ITEMS

Crab Cakes

Clams Casino

Stuffed Clams

Coleslaw

Mac and Sealeg Salad

Shrimp and Sealeg Salad

Seaweed Salad

Smoked Whiting

Stuffed Shrimp

Stuffed Flounder *Limited Availability

Stuffed Mushrooms *Limited Availability

SOUPS

Manhattan Clam Chowder (Red) *Back in Stock!

New England Clam Chowder (white)

Lobster Bisque

Crab Bisque

Maryland Crab Soup

DRY GOODS

Old Cape Cod- Oyster and Square Crackers

Cappelini

Linguine

Alessi Risottos-


Mushroom

Milanese w/ Saffron

Sundried Tomato

Brocollini and Cheese
Alessi White Bean Soup

Zatarains Rices-


Jambalaya Mix

Red Beans and Rice

Yellow Rice

Dirty Rice
Seeds of Change-


Spanish Style Rice

Quinoa and Brown Rice

Brown Basmati Rice
SAUCES

Visceglia's- Pomodoro, Arrabiata, Crab Gravy

Kelchner's- Cocktail, Tartar, Horseradish, Sriracha

Butter & Clarified Butter

Old Bay Hot Sauce- Back in stock!!!

Mikes Hot Honey- back in stock!

Hank's Hot Sauces & Rub

Love Potion Hot Sauce

Ashman Teriyaki Sauces- Sesame, Pineapple, Wasabi, Bourbon

Terrapin Farms- Horseradish Dip & Sauce, Bacon Aioli, Pesto, Chipotle, Wasabi Ginger (*New!)

We have available all the usual fish seasoning, Old Bay, Chef Paul's etc.

CURBSIDE ONLY PROCEDURE!

STEP 1: Please decide what items and how much you would like before calling us. If you need to confer with your spouse, your families, or your pet iguana, please do so prior to picking up the phone.  For easy viewing, our available items are listed below, and pricing can be found on our Specials page as well as the rest of our website.

STEP 2: Phone ahead your order. We are unable to accept same-day orders. Please have your credit or debit card information readily available.

(609)693-3486 [Orders will be taken Tues-Sat from 10am-4pm or until we have reached capacity]

We would appreciate if you would be brief in your interactions with our limited staff.

STEP 3: Call when you are in the parking lot with your order #, name, and the color and make of your car and our staff will bring out your order.

WE APPRECIATE YOUR BUSINESS AS WELL AS YOUR PATIENCE.

Items subject to change with availability

WE DO NOT HAVE ANY HARD SHELL BLUE CLAW CRABS

FRESH FISH

Flounder

Cod

Organic Salmon (Sushi Grade)

Farmed Salmon

Tuna

Halibut

Swordfish

Grouper

Red Snapper

SHRIMP- (Wild, Headless)

*Please note- We are unable to clean

shrimp at this time*

Large (28/lb)

Jumbo (14/lb)

Large Cooked Shrimp (shell on)

SCALLOPS

MUSSELS

CLAMS (Little & Middlenecks)

STEAMERS (Ipswich, "Piss clams")

OYSTERS

CRABMEAT

SOFT SHELL CRABS

LOBSTERS

MEATS

Super Trim Chicken Breast

10oz Top Sirloin Steaks

Burgers (4 pack)

FROZEN

Sushi Grade Tuna- Saku Blocks

Lobster Ravioli

Calamari

King Crab

Snow Crab

Dungeness Crab

Coconut Shrimp

Recipe Ingredients-

Lemons

Capers

Fresh Garlic

Minced Garlic

KEYLIME PIES ARE BACK!!!!